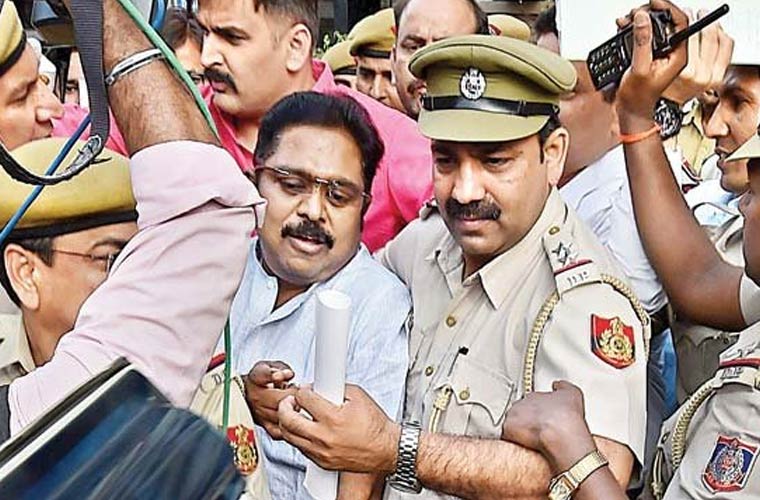 Chennai: It was a visibly tired TTV Dinakaran on Thursday arrived in Chennai amid tight security, a far cry when hundreds of party workers and hangers on used to crowd him for favours. After his arrest in Delhi by police for his alleged attempt to bribe election commission officials for getting two leaves symbol, Dinakaran was brought to his house, his laptop taken into custody and wife Anuradha also questioned.
A team of eight Delhi police personnel brought him to Chennai under transit remand and was taken to Rajaji Bhavan complex, grilled there for few hours and then taken to his residence in Adyar, where his wife Anuradha was also questioned to ascertain if she had any role in transfer of money through hawala operators to Delhi.
The Dehi police team intends to take Dinakaran to Bengaluru and Kochi as well to thoroughly check the money trail as also to collect evidence that will strengthen the case against him. The main line of questioning centered around the source of funds – Rs 1.3 crore that was seized from middleman Sukesh Chandrashekhar.
The police were also questioning him of source of money and how it was sent to Delhi. The crime branch of Delhi police Dinakaran and his friend Mallikarjuna had allegedly used hawala route to send the bribe money to Delhi. This money was used as advance payment for giving bribe to election commission official to secure two leaves symbol for Dinakaran's faction.
Dinakaran's troubles seem to be growing, given the fact that the AIADMK (Amma) faction leaders too began distancing themselves from "their leader". Barring a handful of supporters who got into a scuffle with policemen at Rajaji Bhavan, not many party workers thronged the airport or Dinakaran's residence.
But the one die hard supporter, MLA Nanjil Sampath gave ample indication that Dinakaran will not go down without a fight. "Nothing in the party can happen without the signature of general secretary VK Sasikala," he said adding that "Dinakaran will come out clean from the politically motivated and false case."
When asked as to who was behind Dinakaran's troubles, Nanjil Sampth declared it was "Delhi, Delhi and Delhi." He further said that "we are not opposed to merger, but OPS and Ma Foi Pandiarajan must be thrown out."
Meanwhile, the day went without any talk of merger talks even as the ruling faction of the AIADMK kept watching the Dinakaran interrogation and the ongoing interrogation with apprehensions if any more of the party men could be investigated. The names of couple of ministers and high ranking party officials were being mentioned in this connection.
Subscribe To Our Newsletter