Coimbatore: Kidspreneurship is simply everyday entrepreneurship, but those involved are kids and has less to do with adults.
Based in Chennai, Kidspreneurship is Asia's first entrepreneurial education provider for children and is coming to Coimbatore.
"We will be conducting one batch of KMBA classes in Coimbatore from next month," said founder and CEO Mohanalakshmi K. Classes will be at Srivari Shrimat on Avinashi Road.
Kidspreneur will also be bringing its innovative curriculum, Kidspreneur Edu, for 15-20 schools in Coimbatore by September.
So just what is Kidspreneur, KMBA and Kidspreneur Edu. The Covai Post got in touch with the CEO of KidspreMohanalakshmi K to know more about the company and its unique products, aka, its curriculums.
"I always wanted to be an entrepreneur. I began my journey at 18, now I'm 28," Mohanalakshmi told The Covai Post.
It was 2012 and Mohanalakshmi was doing her MBA in Singapore. The idea for Kidspreneurship was part of her dissertation project.
She was trying to explore the idea with her husband and friends when she suddenly got an invitation from the Singapore Ministry of Education. They wanted to meet her to discuss her project. She submitted the whole curriculum after months of planning and it was finally approved in May 2017.
"We officially brought it to India in 2017 June," Mohanalakshmi said. "Currently, our programme is employed in most schools in Singapore. We have a total of 163 modules of Kidspreneur for the next 10 years for all age groups.
"But for now we have two, Kidspreneur MBA or KMBA, and Kidsprenuer Edu."
KMBA works as a weekend programme as well as a summer camp. It is for children between the ages of 7 and 18.
"At the moment we are in major cities and also a few tier-2 ones based on need," she added.
Next up is Kidspreneur Edu, a curriculum provided to schools where entrepreneurship is taught as a subject like maths and science.
"It's not done after school, but as a part of the curriculum," says Mohanalakshmi, "The response has been awesome," said a gleeful Mohanalakshmi, "Currently we have 380 kid CEOs with many of them running their own businesses already."
In India, parents are really against the idea of failure, she says
"When I compare the students now with how we were as kids, they have now more exposure, knowledge, and accountability. This accountability is often seen in a negative light by parents and teachers. It is more, 'Do as I say' 'Don't question me,'" says Mohanalakshmi, This accountability is actually very good, it should be emphasised and encouraged.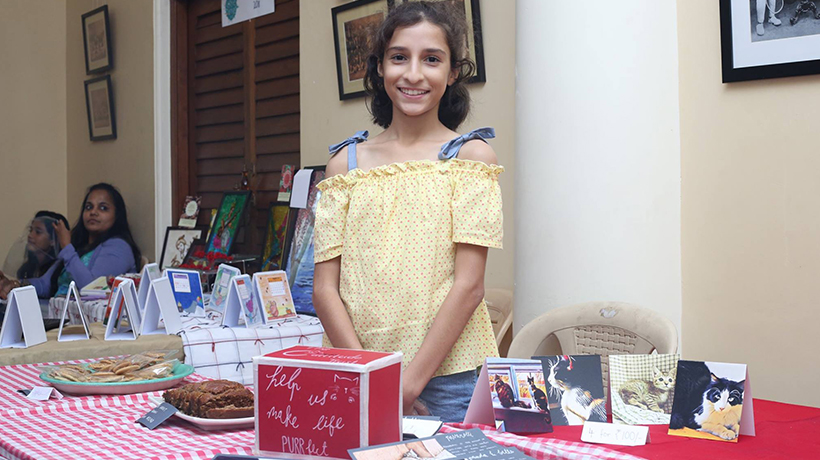 Rather than the students listening to teachers, it should be the other way, she added.
Her next plan is to start a full time entrepreneurship school in Chennai. "It will be a futuristic school that will be infused with technology. We are starting admissions from this month," she said.
The idea for the school came to be when many parents asked for it. It was hard for students to accommodate and fully devote to their businesses along with the current rigid school frame.
"We have a 12-year-old who runs 'Drum Circle'. He does corporate events and such. He does his own projection, market panning etc. But when I called him one day, he said he was doing multiplication tables. Can you see the contrast," recalled Mohanalakshmi.
Kidspreneur will also be conducting KidX Asia on July 1 in Chennai. It will be an opportunity for children with big ideas that need funding to actually get a shot at making it come true.
"We conducted the first one in January 2018 at Express Avenue Chennai. It had 15 kid speakers of which seven were profitable ideas, six were social entrepreneurship ideas and two sharing their life journeys," she recounted.
Subscribe To Our Newsletter