Coimbatore : Even as technology opens up opportunities for more people to become digital nomads*, and people start to move across the globe again**, findings from anHSBC study reveal that the financial experience of international citizens may not be all plain sailing.
HSBC estimates that there are over 90 million*** international customers across 10 of its key markets who are living, working, and studying abroad. The bank commissioned amulti-market studyto understand the evolution of the financial lives of international citizens, their motivations for relocating to a new country, and the issues they faceas they settle abroad. The study also highlights the financial challenges they face,the pressures of relocating, and the impact it can have on their lives.
The findings, based on the responses shared by international citizens in India–that is, people who have either relocated to India, or are planning to do so – areas follows.
• Difficulty in setting up essential services can lead to feeling unsettled. As per the survey, three-quarters (75%) oftherespondentswho have relocated agreed that they felt unsettled when they first arrived because they struggled to set-up important things like a bank account, utilities, and the internet. This highlightshow complex financial administration can have a negative impact on their new experience. Without a bank account, they struggle to secure a home – and without a fixed address, they struggle to get children in schools.
• The inability to transfer credit history is a major obstacle for those moving overseas. Almost four in every five (78%) international citizens in India have struggled to set up essential services such as credit card, mobile phone, and utilities due to this reason. Moreover, almost 61% of the respondents who are planning to move to India are concerned by the fact that they cannot transfer their credit history.
• Finding suitable financial services is a common concern among those who are planning to move to India.Nearly 62% of the respondents,who are considering moving to the country, agree that finding the right financial services to suit their specific needs is a matter of worry.
• Cash flow planning is one of the most integral aspects to consider while moving abroad. The survey reveals that more than half (53%) of the respondents who are planning to move to India (to live, work or study) expect a cash flow crisis upon arrival.Furthermore, half (50%) of those who plan to relocate to India have no idea how they'll manage their finances between locations when they move. Of those who have already relocated, 67% respondents said they got no help in financial management.Whereas, for those who are still planning to live, work, or study in India, one in every two (50%) international citizenshave said that nobody helped them feel financially prepared to relocate.
Motivation for relocation
Amidst inflationary pressures and rising cost of living, the study found that 26% of international citizens are motivated to relocate to India for stability for their family, 23% move due to improved technology which means they can work from anywhere, and 20% relocate or are planning to relocate for a better lifestyle.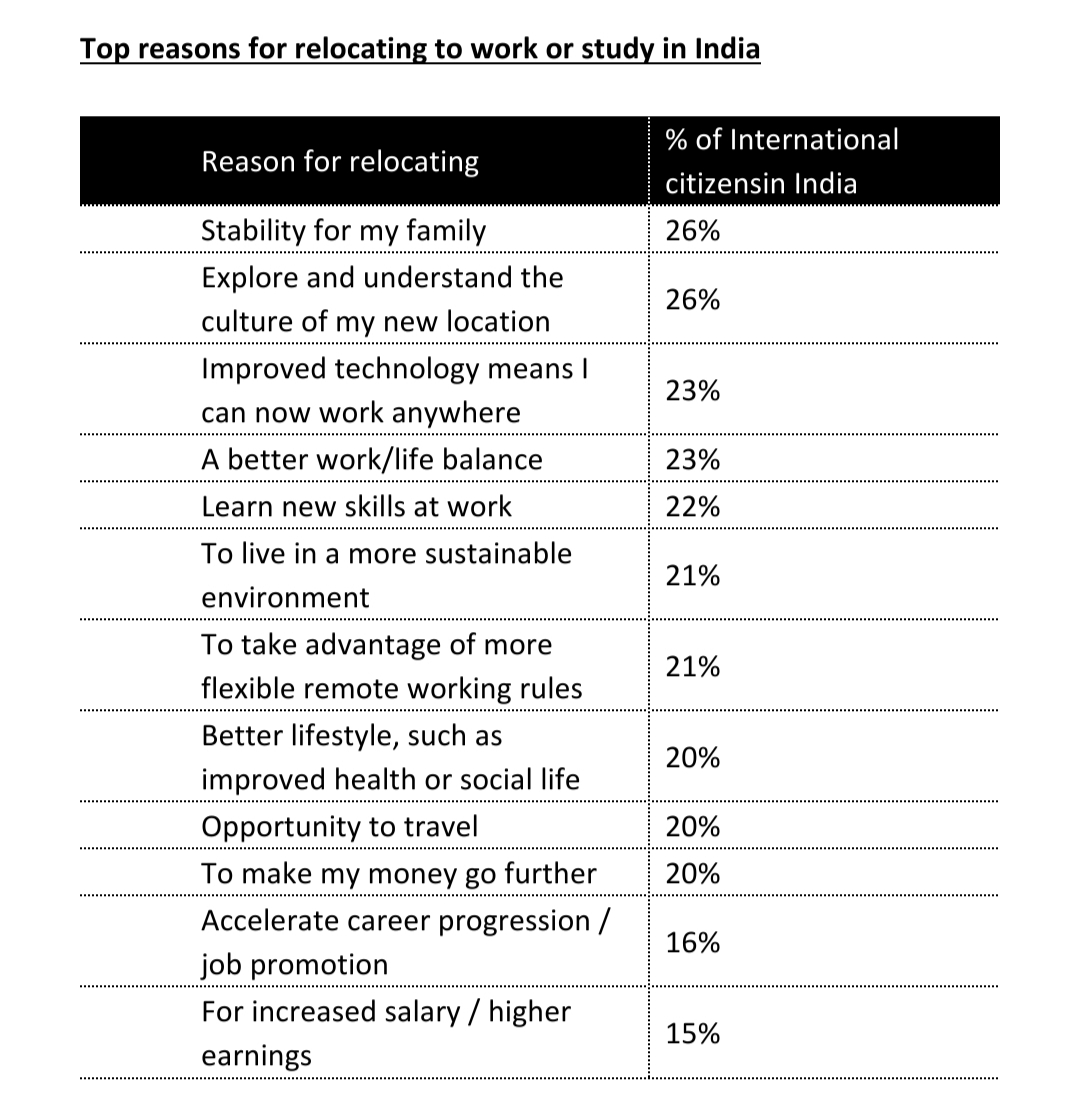 The study comes as HSBC is relaunching its international products and services to better support customers across borders, for a seamless cross-border experience, whether they're moving for work, study, or to settle in a new country.
Commenting on the study findings, Taylan Turan, Group Head of Retail Banking and Strategy, Wealth and Personal Banking at HSBC, said,"Moving abroad is exciting and daunting, but managing your finances internationally shouldn't be a struggle. It's clear from our research that some people get caught out on the financial front, which can really impact their ability to settle in their new home.
"Banking across multiple locations can make it tricky to stay on top of your finances; there's a lot to think about. To be set for success, people need to be able to open a bank account before they moveoverseas andsee their bank accounts in one global view.Beyond banking, the tax implications of relocating abroad can also play heavily on people's minds, so help from tax planning advisors is crucial.The right financial support can help reduce the time people spendworrying about money matters, and instead make more time for them to enjoy their new life."
Sandeep Batra, Head, Wealth and Personal Banking, HSBC India, said:"The stress of managing one's finances when relocating to another country at times beats the excitement of moving abroad. Through our research, we came across crucial challenges that international citizens face on the financial front when moving to a different country. Many of our NRIs and Indians planning to move overseas need right financial assistance to aid them in settling into the new country and feel more at home. Similarly, for people who moved to India or planning to move find these challenges difficult to navigate. The challenges identified can be an opportunity for global financial institutions to consider, and provide suitable, innovative solutions."
About the survey
The study, conducted by Ipsos UK, surveyed over 7,000 adults across nine international markets, including India.It investigated the experiences of those currently living, working and studying abroad, as well as those who are planning to do so and those who have returned within the last five years. It explored the experience of a range of different international citizens, including expat families, digital nomads and overseas students.Further methodology details in the notes section below.
Subscribe To Our Newsletter