City-based NGO Swarga Foundation recently constructed accessible toilets for physically challenged persons in six Government schools here. The foundation also provided a wheel chair to a student.
According to the NGO's Managing Trustee, Swarnalatha, during a function in the Government Higher Secondary School at Vagarayampalayam, foundation members noticed a physically challenged Grade 7 student, Ratheesh, who had to depend on walking. "When we checked with the school authorities, we came to know that he recently underwent a surgery in both legs and was having difficulty in moving around. We decided to buy him a wheel chair so that he could move around on his own.The foundation has also built accessible toilet in the school at a cost of Rs. 2.25 lakhs. The foundation has also built ramps in six Government schools so that physically challenged students do not have any difficulty in moving around," she said.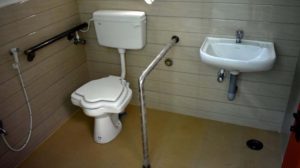 "After Ratheesh underwent surgery, doctors advised him rest for two full months. When he returned to school, he was having difficulty again in moving around. At once stage his parents even thought of pulling him out of the school. That's when Swarga Foundation provided him with a wheel chair. Our school is located in a village and there are eight differently abled students in our school. This accessible toilet and ramps will help these students to a great extent. They can move without anybody's help," the Head Master of the School, A. Ilamurugan, said.
Subscribe To Our Newsletter