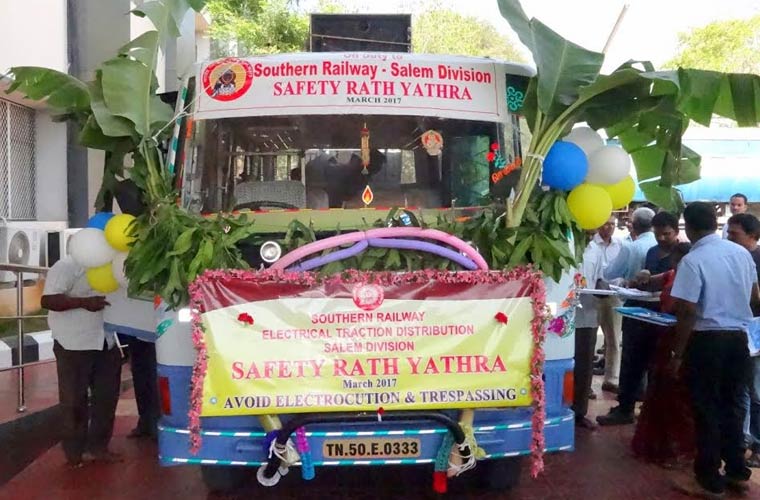 As part of Electrical Safety Awareness Campaign, a Safety Propaganda Van (Safety Rath) was flagged off from Southern Railway Salem Division Office today.
Flagging off the four-day campaign, Divisional Railway Manager, Hari Shankar Verma said that the division believes in the theory of 'Prevention is better than cure' and educating the rail and road users on the safety front would save the loss of lives and damage to property.
It was most unfortunate that two lives were lost by electrocution this year in the division, one during the jallikattu agitation in Salem Market Station and the other one at the Mettur Dam Station, when they tried to board the top of the coach and wagon, Verma recalled.
Educating children on safety as part of the moral education would help them in the long run, he said and lauded the efforts of electrical and safety branches of the division, in this front.
The van will travel all over Salem division to interact with general public and rail passengers, distribute pamphlets, distribute geometry boxes to school children carrying safety messages, and carry out audio visual propaganda.
The electrical branch staff have planned to meet nearly one lakh people, distribute 10,000 pamphlets, 2,500 Calendars with safety messages in Tamil, English and Hindi, and distribute 1,000 geometry boxes to educate the students and warn of the risks involved in getting near the railway electrical installations and the resultant electrocution and also on safe usage of the level crossings, a Railway release said.
Subscribe To Our Newsletter