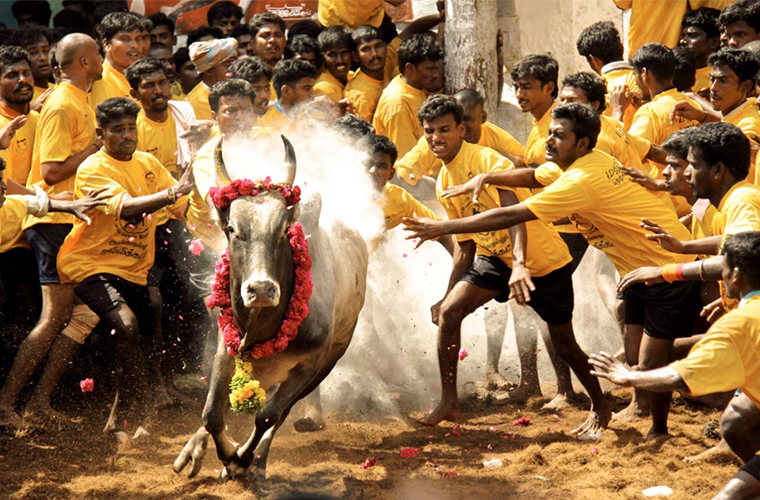 Chennai: With just two days left for the Pongal festival, the demand for conducting jallikattu is on a high. Today, Chief Minister O Panneerselvam said all measures will be taken to ensure that the sport is conducted and the tradition of Tamils is safeguarded.
The statement was made by the Chief Minister in a release responding to allegations made by opposition leader and DMK Working President M K Stalin recently over the jallikattu row.
In the release, Panneerselvam recalled various measures taken by the AIADMK government to ensure that jallikattu takes place. He also said that the previous Central UPA coalition, of which the DMK was a part, was the reason behind the jallikattu ban in the first place.
"Stalin has quoted former Judge Markandey Katju and said that the State government can bring in an emergency ordinance to conduct jallikattu. I have already said that the State government cannot promulgate an ordinance against the Prevention of Cruelty to Animals (PCA) Act," the Chief Minster has said.
"We will ensure that Jallikattu definitely happens and will never back down from it. I hereby convey to the people of the State that the tradition and culture of the Tamils will be upheld," the Chief Minister assured.
Meanwhile, a delegation of AIADMK MPs, lead by Deputy Speaker of the Lok Sabha M Thambidurai, today met Union Minister of State for Environment, Forests, and Climate Change, Anil Madhav Dave and presented a memorandum of AIADMK General Secretary V K Sasikala, seeking to amend the provision of PCA Act to hold jallikattu.
In her letter addressed to Prime Minister Narendra Modi, Sasikala requested him to promulgate an ordinance to amend the PCA Act. Sasikala said that the lifting of ban of jallikattu will bring joy to Tamils all over the world.
"The sporting event was inextricably linked to the rural, agrarian customs, practices, and psyche of the Tamils and also helps in the conservation of native germplasm, since bulls with excellent physical attributes alone were reared for the sport," she stated in her letter.
Meanwhile, addressing mediapersons today at the party office, Stalin said that the Central government has to take steps against the Supreme Court's verdict as they did in the Cauvery issue. "When they can work against the Supreme Court in the Cauvery issue, they can also do the same with jallikattu," he said.