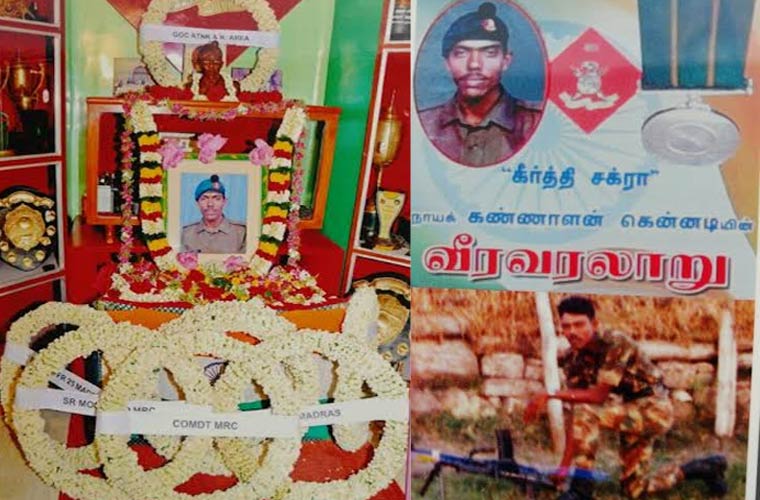 The memory of Indian soldier Kannalan Kennedy who laid down his life while fighting Pakistan terrorists is being perpetuated in the most fitting way.
The family of the Kirthi Chakra award winner, living in Coimbatore, has built a temple in his memory, which has turned popular over the years being visited by patriots, soldiers, school children and the public.
On a fateful day of April 11, 1993, Naik Kannalan, who was 28, was among the soldiers of Deccan Devil battalion fighting an infiltration bid by Pakistan terrorists.
In the fierce gun battle that lasted for hours in the Samba sector, Kannalan laid down his life after being hit by enemy bullets. But just before breathing his last, he killed three terrorists.
Kannalan Kennedy had taken position with his Light Machine Gun (LMG) and was firing bullets at his enemies when the unexpected happened. His legs got trapped in snow, leaving him immobile, said his brother Annadurai, recounting the tale of bravery as conveyed to them.
The eight terrorists, under the impression they had ambushed him, moved forward. But brave Kannalan shot dead three of them and left three critically injured before succumbing to enemy bullets.
When reconnaissance arrived at the scene, they found Kannalan dead, said Anamalai who runs an LPG agency at Perianaickenpalayam.
The then President Shankar Dayal Sharma awarded Kirthi Chakra (the highest military honour for bravery during peace time) posthumously to the Naik Kannalan Kennedy at an investiture ceremony in 1994.
"We in the family decided to perpetuate Kannalan's memory by building a memorial. His mortal remains could not be brought to his native place Naicken Palayam, his brother says. He was cremated in Kashmir with full military honours and we did not get a chance to see his body for one last time," the younger brother said in a broken voice.
His ashes reached after 15 days and consecrating this, the memorial was constructed in 1996, which soon had turned to be a favourite spot for Army men visiting Madras Regimental Camp in Wellington. School children and common public visit the temple to revere the bravery of the young soldier. "This April 11, we in a commemoration, Commanding Officer of the 110 Infantry Battalion K.Loganathan and officers visited the spot and paid floral tributes in the presence of a number of school children and common people.
Kannalan's five siblings live together. His elder sister Buvaneshwari is a veterinarian and his brothers are into business. "Even the gas agency I run was allotted under the Defence quota, respecting my brother's sacrifice," said Annadurai.
The family is also into social commitments such as supporting a local cricket club – Kannalan Cricket Club – and also financially support needy school children. A book, `Kannalan Veera Varalaru' written by a teacher has also been brought out.
Subscribe To Our Newsletter