The three women, who went to 24 countries by road, got home today.
The XPDian trio – Meenakshi Arvind from Coimbatore, Mookambika Rathinam from Pollachi, and Priya Rajpal from Mumbai – left for London from Coimbatore on March 26, passed through 24 countries and returned home without a scratch.
The Arc Foundation had arranged for a surprise warm welcome for Meenakshi and Mookambika at the airport here, where Meenakshi spared us some time for a quick chat, while Mookambika was busy receiving all the love she missed.
Talking about the cause for which they drove down, Meenakshi told The Covai Post, "The cause is basically to spread literacy. We have reached out to people along the way, told them how important education is to a kid. We are totally satisfied. Three Indian women travelling to remote parts of the world speaks a lot about women empowerment in India. To say that Indian women are lot different than what the world believes, is very close to my heart and it is very important."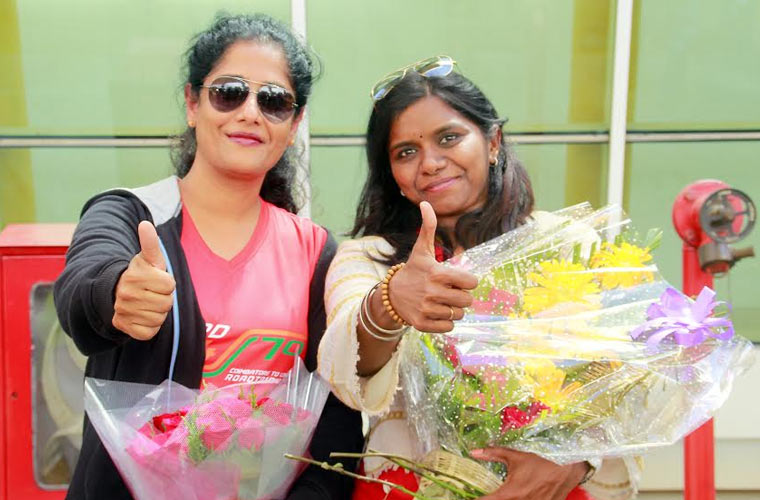 When asked which country impressed them more, she said: "China, because of the unimaginable infrastructure. I have travelled around the world and I have never seen that kind of roads in Europe or America or anywhere. Russia is also good."
The women met each other on social media and came together particularly for this trip. They have bonded really well over the time in spite of mild differences among them. "We were together everywhere – in the car, in the room," said Meenakshi.
It is hard to believe that none of them fell sick during the entire trip. "Not even a mild headache," she said. And most importantly, the car didn't let them down.
Meenakshi thanked Tata Motors for providing them with the car.
What next? "A trip to all the South Asian nations is on the cards," she said.
Subscribe To Our Newsletter