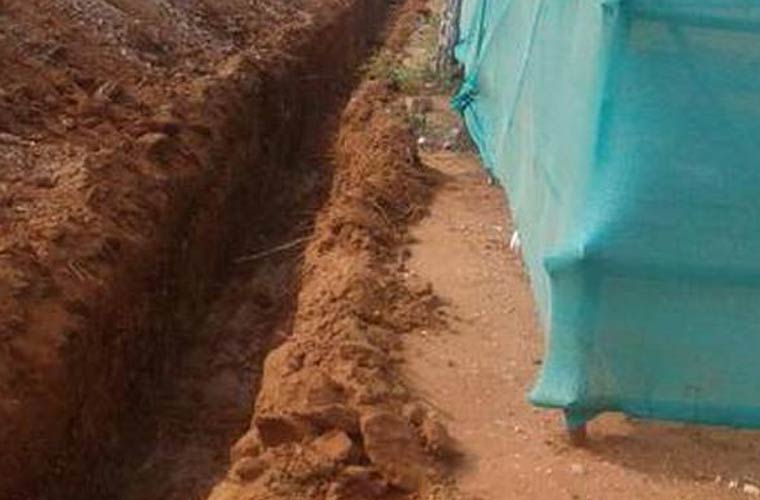 Trenches to keep elephants away along forest fringes and camp sites deep in the forests are well known. But in Malumbichampatti along the Coimbatore-Pollachi highway is no forest area. Yet trenches have been dug there just to ward off tipplers from a bar.
When a TASMAC outlet abutting the highway in Malumbichampatti and near the Government Higher Secondary School was closed down on March 31, residents have heaved a sigh of relief.
But this was short-lived. Those running a bar attached to the outlet devised a way to circumvent the law. The bar -owner put up poles, creating a maze-like path, making the entrance to the bar beyond the threshold of the Supreme Court stipulated limit of 500 meters. Tipplers would have to make their way through the maze and walk an extra 500 metres to get to the bar.
Not to be defeated, residents had their final say. Local welfare organisation Nal Oli Podhu Nala Iyakkam gathered resources to dig a trench outside that made access for tipplers to the bar near impossible. The trench has been dug on private land party and prevents entry to the bar by tipplers.
The residents had a reason to do this. When they, led by Lakshmanan, complained against the move to reopen the bar, TASMAC officials did nothing. Worse still, they behaved rudely to the people, residents said.
"The trench is dug on a privately-owned land, and it prohibits the tipplers getting into the planned bar. Even if the tipplers manage to jump across the trench, which itself is difficult, their way back is just not possible," says Lakshmanan, activist of the organisation.
Subscribe To Our Newsletter