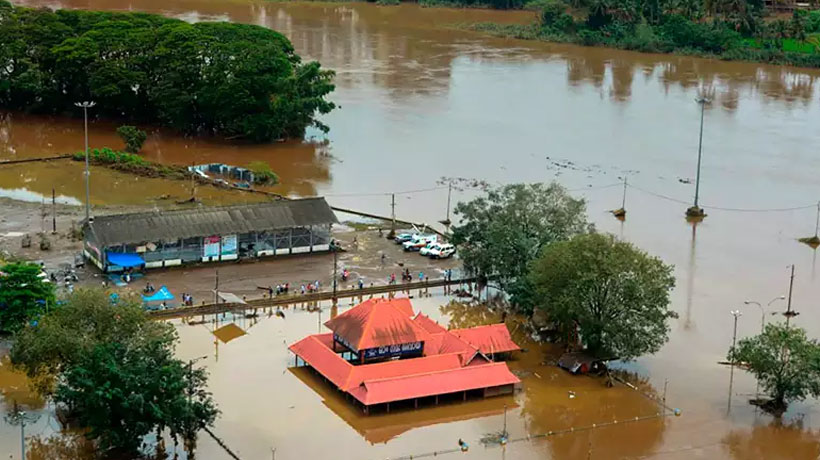 Kochi: Rafeeq, a Muslim from Bengal is busy cleaning temples in flood-ravaged Aluva near here.
He was living in Edakkara in Malappuram and came to Kochi to help flood victims. He Is among the many from other religions helping clean temples in Aluva, Perumbavoor, Paravur, Chalakudy, Alappuzha and Chengannur.
More interestingly, a temple was used by Muslims to offer namaz on Eid-ul-Adha. After a mosque at Kochukadavu was flooded, special arrangement was made at the temple hall in Eravathur near Mala for the namaz.
The Muslims in the area were looking for a place to conduct the Eid prayers when the SNDP Yogam, which runs the Purappullikkavu Ratneswari temple, offered the hall to them
Set up in 1903, SNDP Yogam was floated by social reformer Sree Narayana Guru whose philosophy was to unite all humans under a one-god, one-religion theory.
The flood may have caused disasters and tragedies, but also broke all religious barriers and discriminations.
Shortage of labourers forced many temple administrations to compromise on religious discriminations and norms that restrict entry of people of other faith.
The Siva temple on the banks of the Periyar is mostly inundated during all monsoon as it is located on a small mass of land in the middle of the river.
Sikhs from Punjab thronged in large number under the guidance of Shiromani Gurudwara Prabandhak Committee (SGPC).
They not only send tonnes of food articles and medicines, but also 10 doctors and 25 volunteers to help people returning to their homes.
Two more loads of articles and volunteers are on the way from Amritsar.
Under the guidance of SGPC president Bhai Govind Singh Longowal, the team is led by Tejinder Singh Padanna.
A large amount of flood relief material from Tamil Nadu was stored in an indoor stadium in Palakkad. Volunteers from Tamil Nadu stayed in the stadium to help rehabilitation work.
Tamil Nadu Government employees are giving a day's salary for the flood relief in Kerala. Tamil Nadu Government Employees' Association state secretary C R Raj Kumar said all government employees would contribute a day's salary towards this. The amount collected would be deposited in the Chief Minister's relief fund, he said.
The association had already provided rice, essential medicines, children's dress materials and bedsheets among others.
Meanwhile, the Chief Minister's flood relief fund is likely to cross Rs 1,000 crore. The account swelled to Rs 713.92 crore until Monday.
The latest figure would be known after banks opened after long holidays. Of this, Rs 132.68 crore came through CMDRF payment gateway, UPI, and Rs 43 crore through Paytm.
On a single day, Rs 20 crore cheque and drafts were received at the Chief Minister's office.
Cheques received by other government offices towards the fund on Onam holidays have not included.
At least 3.91 lakh people have made online contribution at donation.cmdrf.kerala.gov.in .

Now payment can be made in addition to the previous eight banks, through IDBI, Indian Overseas Bank, Punjab National Bank Payment gateway.
Subscribe To Our Newsletter