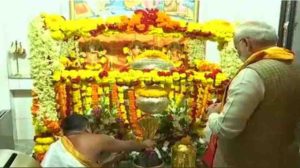 Kochi: The 38-year-old Sankar Narayanan of Kasargod was the only priest from South India to perform the rituals during the laying of the foundation stone for the temple in the UAE by Prime Minister.
Mahesh Rawal, Alpesh Joshi and Shailesh Maharaj were other priests who performed the rituals.Sankar Narayana is the chief priest of the 125- year-old Lord Siva temple in Muscat.
He learned the basics of tantras while assisting his father Radhakrishna Adiga at Mallikarjuna temple in Kasargod Sivananda Mayya was his first guru. He then  went to Gokarnam to learn veda for three years.
He worked as a junior to  Narayana Dev of Aarikadi in Kumbla. Later, he went to Muscat as a priest in the Lord  Siva temple in 2006.He returned to take over the charge of chief priest from his father who retired in 2010 from Mallikarjuna temple.He returned to Muscat as chief priest in 2014.
Subscribe To Our Newsletter