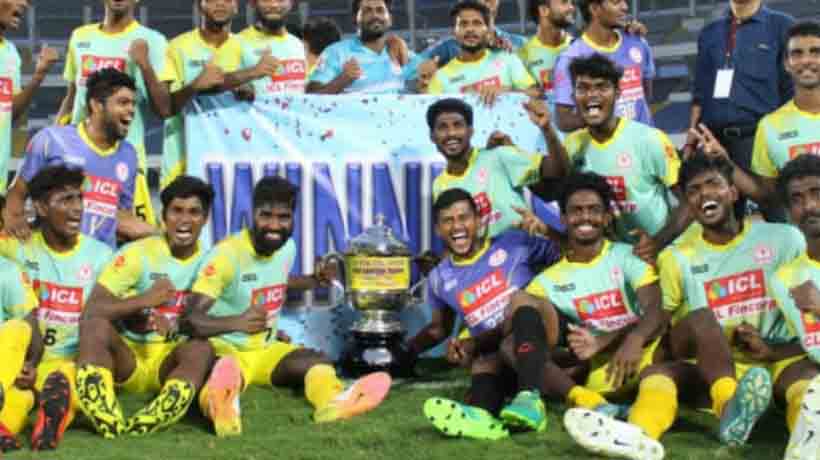 Kochi: After a long wait of 14 years, Kerala lifted Santosh Trophy beating Bengal in the tough fought final match in the Santosh Trophy at Salt Lake stadium, Kolkata, today.
The six time winner Kerala beat the host through penalty shoot outs. The two teams were one each when the allotted time elapsed.
The two teams again scored one each in the extra time making the score 2-2.
Kerala custodian Mithun helped his team to nudge the rival out of the reckoning by blocking two penalty kicks in the penalty. Rahul V Raj, Jithin Gopalan, Justin and Season found the gap to place the leather on the net to win the key match. Bengal's experiment to field its captain Jithen Murmu as goal keeper failed to make any impact.
Thirty two times winner Bengal played with full vigour from the beginning and could have won the march easily if the wasted chances were converted into goals. Kerala went one up in the 19th minute when Jithin M S converted a super pass from midfielder Seesan into a goal.
It was a high spirited counter attack of Bengal's failed attempt that helped Kerala to score the goal. Bengal equalled the score in 68th minute of the second half when Rajan Burman sent a pass from Murmu into the net.
The teams remained tied at 1-1 at the allotted time.
The match went into the extra time when Bengal got the shock as Burman was sent out through red card making it a ten member squad. Four minutes later Vipinlal Thomas increased the lead for Kerala 2-1 through a header.
Tirthankar Sarkar of Bengal scored the equaliser sending both teams to penalty shoot outs.
Kerala last won it in 2004 in New Delhi beating Punjab.
Subscribe To Our Newsletter