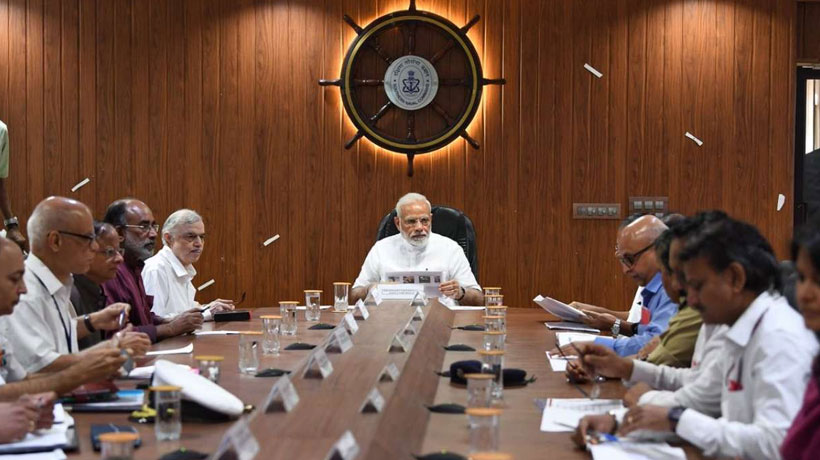 Kottayam: Prime Minister Narendra Modi today conducted an aerial survey of some of the flood-hit areas in Kerala and announced an interim relief of Rs 500 crore.
Kerala sought an urgent assistance of Rs 2000 crore even as the state had faced a loss of Rs 20,000 crore.
Modi could not conduct survey of some areas due to inclement weather.
The Centre has decided to give an amount of Rs 2 lakh to the kin of those killed. The injured would be given Rs 50,000.
After the aerial survey, Chief Minister Pinarayi Vijayan told mediapersons in Thiruvananthapuram that the Prime Minister was briefed about the situation even as he had good information about it. Modi said the Centre would consider the State's demand for more funds after conducting a study.
Kerala has sought more helicopter support to take up rescue operations. He said the Prime Minister had promised to give all support to the State to mitigate shortage of foodgrains in the wake of the warehouses being inundated.
A memorandum has been given to the Prime Minister citing the problems of the State. An elaborate memorandum would be given to the Prime Minister later, he said.
Meanwhile, the state is getting water supply in packed bottle from across the country as the supply is disrupted and wells were contaminated.
Naval Airport at Kochi has made arrangements for more domestic flights to operate as CIAL at Nedumbassery is closed. Railways is operating long distance trains via Tirunelveli, Madurai as other routes like
Thiruvananthapuram-Kanyakumari and Thiruvananthapuram-Palakkad through different routes of Kottayam and Alappuzha are affected.
Road traffic between Tamil Nadu and Kerala remained disrupted through Kuthiran Pass between Thrissur and Palakkad.
Partial traffic is possible through Kumily, Cumbum and Kollam-Shenkottai sectors. Tourism hit as Munnar is marooned and Kumarakam is inundated. The Insurance Regulatory Authority of India has directed insurance companies to settle claims at the earliest. Nodal officers have been appointed to help the people.
The Railways have cancelled assistant loco pilot and technicians examination scheduled for 20 and 21. Shortage of petrol and diesel has affected normal life even as the authorities have said the problem was only temporary due to shortage of manpower.
The main problem is in northern part of the State where fuel is supplied from Mangaluru refinery. Landslips on the road to Mangaluru had hampered the supply, the sources said. This would be solved soon, they added.
Water level in the Periyar and the Chalakudy rivers were receding helping.
Subscribe To Our Newsletter