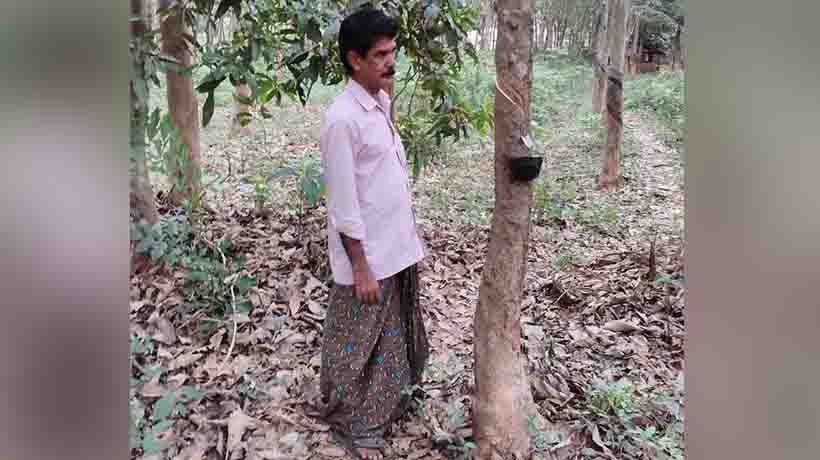 Image credit : Chandramohan inspects a rubber tree which was he once tapped.
Thrissur: It was some years ago that natural rubber (NR) plantation lured large number of people in non-traditional areas (NTA) like Thrissur.
Farmers took to NR farming despite its poor yield compared to traditional areas (TA) like Kottayam.
Many of them in NTAs felled coconut palms to plant rubber saplings as the remuneration zoomed to Rs 270 per kg then.
But that did not last long as rubber price soon crashed due to glut in domestic and global market and has not recovered since then.
Fall in prices of crude oil added fuel to fire as synthetic rubber became much cheaper, forcing tyre manufacturers go for cheaper material. This triggered major crises among NR farmers mainly in NTAs.
ALSO READ : Public meets banned for a week in Kozhikode after protest against Kashmir rape
In Puthurthy in Wadakkancherry, CA Chandramohan is one such farmer who suffered heavily. During his chat with The Covai Post, he reminisces the huge remuneration he used to receive a few years back.
"I waited for long in vain hoping the price to bounce back to the high end band. I wasted my time. The government did nothing to help small growers like me to get subsidy through Rubber Board," he lamented.
He chopped off the NR trees in half acre to grow fruits and vegetables. However, he has retained NR trees in another half acre. These trees have been given to a farmer on an 11-month lease
Chandramohan is now happy farmer as he is able to balance between vegetable farming and rubber cultivation, albeit through a third party.
He is one of the hundreds of farmers who have opted to lease out their NR plantation to prospective farmers.
Subscribe To Our Newsletter