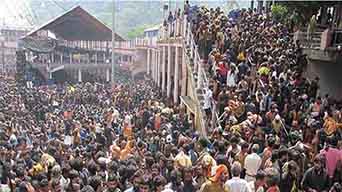 Kochi: In a major relief to Sabarimala pilgrims, the Centre has allocated Rs 219 crore for the long-pending Sabari rail project which had been hanging fire for the last three decades.
The project was proposed in 1989 and survey was conducted in 1994 and then estimated at Rs 517.7 crore which has escalated to over Rs 1,700 crore.
Work on the project started at Angamali some years back and came to a halt as a few influential landowners in Idukki came in the way.
The last UPA Government came up with an impossible proposal suggesting the State Government share 50 per cent of the cost which had escalated by over 300 per cent. This was out of question for a state which has been in financial troubles for decades.
The BJP Government also sanctioned Rs 162 crore towards doubling of the over 40 km of track via Kottayam which is heavily depended by pilgrims using the conventional route.
Sanctioning of Rs 10 crore for the Tirunavaya- Guruvayur link line would help pilgrims visiting the shrine from Mangaluru side.
Other projects that would make railways more efficient are the Thiruvananthapuram- Kanyakumari section doubling at Rs1,522 crore, the third line on the 107-km Soranur-Ernakulam section and allocation of Rs 67 crore for doubling of Ernakulam-Alappuzha-Thiruvananthaouram doubling.
Subscribe To Our Newsletter