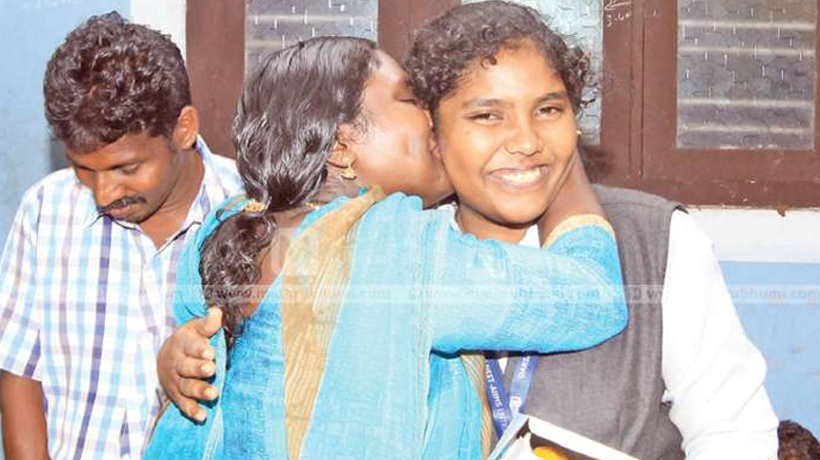 Image credit : mathrubhumi.com
Kochi: When the going gets tough, the tough get going is the apt expression in the case of the 17-year-old P K Manjusha who has seen only miseries and hardships in life. But she has never bowed down before any adversaries and remained steadfast in her determination to work hard and excel in her studies and now has secured the 77th in the SC/ST category in the NEET examination.
Manjusha knows what hunger is as she was born into a very poor family on which calamities fell one after the other, Baby Loius, panchayat member of her ward Kanjiramchira told The Covai Post. Her father Purushothaman was a lottery seller and used to struggle to generate income to run the family and save some for the future to meet the expenses of Manjusha and her elder sister. They got two cents of land free of cost from Government under Scheduled Tribe rehabilitation programme, Louis said.
Hell broke loose when Purushothaman died about seven years back due to heart attack. Manjusha was in her primary class when he left leaving the family in darkness. It was during this time she got admission in Navodaya School at Chennithala in Alappuzha.
Her mother Chellamma took over the reins of the family and pursued her husband's vocation. As things became normal, another tragedy rocked the family when Chellamma was downed by a road accident. This incapacitated her and she developed mental disorders, pushing the family into deep crisis.
It was at this juncture, a marriage proposal by a dating young man came for her sister Maheshwari. After enduring all the pains of the world, the family was overwhelmed. Maheshwari's marriage signalled the advent of good days for them.
ALSO READ : First geared electric motorcycle unveiled in Coimbatore on World Environment Day
Manjusha was very happy after the marriage and she started putting better efforts in her studies. Local residents came forward to support her in her studies. All her efforts paid rich dividends as she passed SSLC getting 'A' Plus in all subjects.
This boosted her morale and encouraged her to work harder. Two years later she passed Plus Two again scoring all 'A' plus. She was honoured by former Chief Minister Oommen Chandy at a function organised near their house, Louis said.
She started preparing for the entrance examinations. Soon she realised that without guidance it was tough to get through. The good samaritans in her neighbourhood and her relatives tried to raise fund towards entrance coaching. But it turned out to be a failure.
She kept knocking at all doors and finally met the director of Darshana Academy in Tiruvalla which agreed to coach her free of cost and offered accommodation. In between, Chellamma's health deteriorated. But she did not have to bother as one of the sister organisation of Darsana Academy in Monipilly in Kottayam came forward to admit her in their care home.
The big day came knocking at Manjusha's door when she qualified to become a doctor. She got 77th rank in the SC/ST category in the just-concluded NEET examination.
Subscribe To Our Newsletter