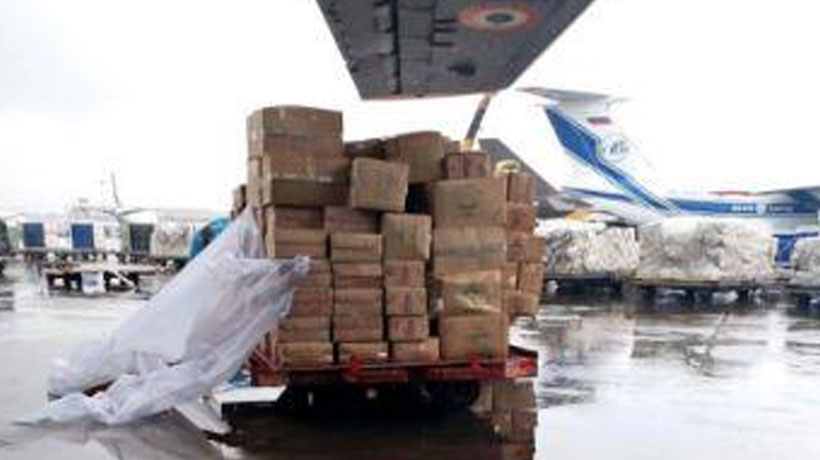 Trivandrum: The IAF focused on relief operations and medical aid in the flood-affected areas of Kerala. Helicopters operating from Sulur, Kochi and Trivandrum flew sorties to air drop much-needed supplies near relief camps set up by the civil administration. A total of 53 helicopter sorties were flown and 21,000 kgs of supplies dropped covering the areas around Thrissur, Palakkad and Chenganur.
So far, the 26 helicopters earmarked for rescue and relief operations have flown 364 sorties rescuing 574 civilians and air dropping 1,25,435 kgs of supply load. Also fixed wing assets of the IAF have flown 87 sorties to ferry in 2436 personnel and 45,650 kgs load of the NDRF, Army and Navy.
Southern Air Command (SAC) despatched four medical teams each consisting of two doctors and three paramedical staff to Thiruvalla and Chenganur for setting up medical facilities for treatment and distribution of medicines at over eight different relief camp locations. These teams have attended to over 700 affected persons in relief camps at Alaturutty, Ramanapuram, SNDP hall and Srivallabha temple.
The IAF is increasing the number of medicals teams to ten by tomorrow. The IAF will continue all out efforts in coordination with the civil administration to ensure that the civil population of Kerala recovers quickly from this calamity.
source : http://www.bfirst.in/category/nation/21000-kgs-of-supplies-air-dropped-in-flood-hit-chenaganur-thrissur-510272
Subscribe To Our Newsletter