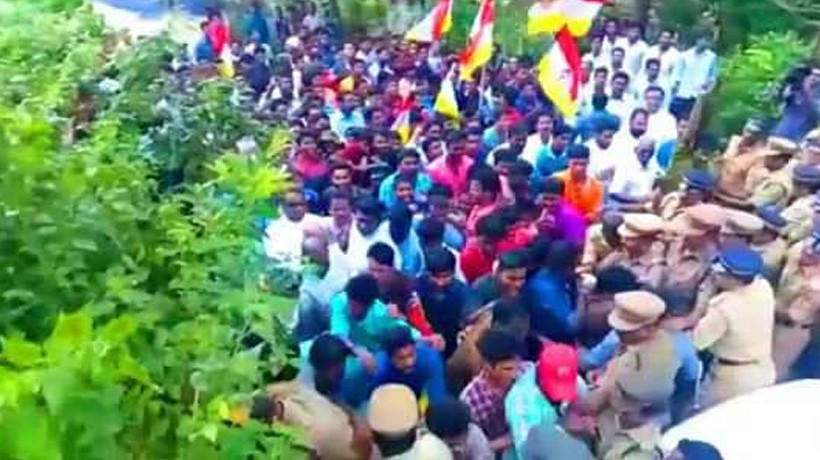 Thiruvananthapuram: The Latin Catholic Church on Sunday announced that it would intensify its stir in support of its demands in connection with Bonacaud worship issue.
The Latin Catholic church brought out a pastoral letter which was read out in the churches coming under its domain. The letter seeks intervention by Chief minister to allow the faithfuls to visit the cross on the first Friday of every year.
The government is providing support to the anti socials who destroyed the cross in August last year, the letter alleged. It accused the government of giving green signal to the police to brutally attack the faithfuls who tried to enter the forest.
Forest and police are protecting those who destroyed the cross, it said. The government, who had assured freedom to worship, did not honour its promise.
Protest marches were organised in different churches under its domain on Saturday night. The Archbishop Soosa Pakiam would inaugurate picketing in front of the Secretariat on Tuesday. This would mark the beginning of struggle against the government, it said.
Many priests and faithfuls would take part in the stir which would continue until the demands are met. The government should also order a judicial probe on police attack against the faithfuls and take action against the guilty.
The 24 feet tall concrete cross was found destroyed on August 18, last year at Bonacaud tea estate at Vithura near here.
Seeking on restoration of the cross, the church team had met Chief Minister who told them that their request would be considered favourably.
The believers had some months back made attempts to install new crosses which was demolished by BJP workers.The believers said that the cross was destroyed by Forest officials who have denied the allegation though they had plans to remove the cross as it stood on forest land and was considered as an act of encroachment.
Subscribe To Our Newsletter